jUMP-START e.U. is specialized in:
ALTERNATIVE FINANCING i.e. pre- & seed funding, startup investments (venture, …), state and governmental funding, crowdfunding;
BUSINESS PLANNING (market analysis, leanstartup, strategic management, strategic analysis, site analysis, sales setup, …)
StartUp MANAGEMENT with hands on qualities (sales, marketing, bookkeeping, project management ….)
EXPORT/IMPORT MANAGEMENT (market research, intern. project management, foreign trade techniques, intern. marketing and sales, purchasing, calculations, funding, contracting, paper work, …)
We offer our services to starting companies up to SMBs
We partner with valuation-specialists, lawers, tax consultants, web-desingners, marketers, … – whatever is needed for a special case;
jUMP-START e.U. is situated in Austria, but we work internationally too, i.e. Istanbul/Turkey.
---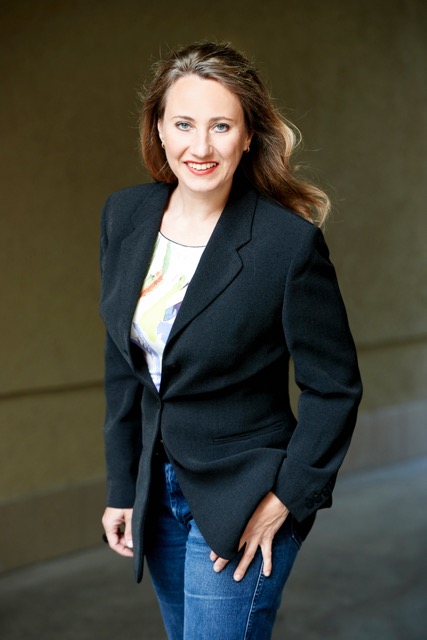 Mag. Doris Kaiserreiner
Management Consultant & Business Coach
certified by the TÜV Austria ISO/IEC 17024

certified academic Arts & Culture Manager
---
jUMP-START e.U. ist auf alternative Unternehmens- und Projektfinanzierung wie Förderungen und Crowdfunding, auf Innovationsmanagement, und den raschen Aufbau von Team-Strukturen von StartUps spezialisiert und begleitet Sie bei Ihrer Unternehmensgründung.
Wir unterstützen Sie bei der dafür nötigen Businessplanerstellung, führen erforderliche Analysen und Recherchen durch, halten Workshops ab. jUMP-START e.U. bietet darüber hinaus allgemeine Unternehmensberatung an.
In Kooperation mit weiteren ExpertInnen bieten wir Dienstleistungen zu M&A, Unternehmensverkäufen und Schutzrechten an.
Unter dem Motto kostenlos aber nicht umsonst, biete ich Ihnen an Ihren BusinessPlan auf Vollständigkeit und inhaltliche Konsistenz zu checken und mit Ihnen die Optimierung für einen Förderantrag zu besprechen. In den Räumlichkeiten meines Partners basis08 bzw. an... mehr lesen
"Liebe Doris, Sie waren mir eine große Hilfe! Erst beim Korrigieren des Förderantrags ist mir aufgefallen wie wichtig Ihre Korrekturen waren."  DI Roland Tappeiner, SEPS Solar Electric Power Solutions Unter dem Motto kostenlos aber nicht umsonst, biete ich... mehr lesen
Unter dem Motto kostenlos aber nicht umsonst, biete ich Ihnen mittels Ihrer mitgebrachten Unterlagen einen sog. Export-Fit-Check und bespreche mit Ihnen die Export-Fitness Ihres Vorhabens. In den Räumlichkeiten meines Partners basis08 bzw. an meinem Firmensitz im 8.... mehr lesen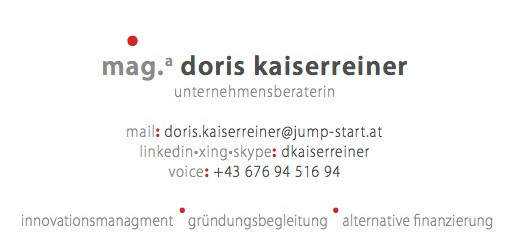 Ich freue mich über ihre Anfrage: