jUMP-START e.U. is specialized in:
alternative financing i.e. pre- & seed funding, startup investments (venture, …), state and governmental funding, crowdfunding;
business planning (market analyses, leanstartup, strategic management, strategic analyses, site analyses, sales setup, …)
StartUp management with hands on qualities (sales, marketing, bookkeeping, ….)
We offer our services to starting companies up to SMBs
We partner with valuation-specialists, lawers, tax consultants, web-desingners, marketers, … – whatever is needed for a special case;
jUMP-START e.U. is situated in Austria, but we work internationally too, i.e. Istanbul/Turkey.
---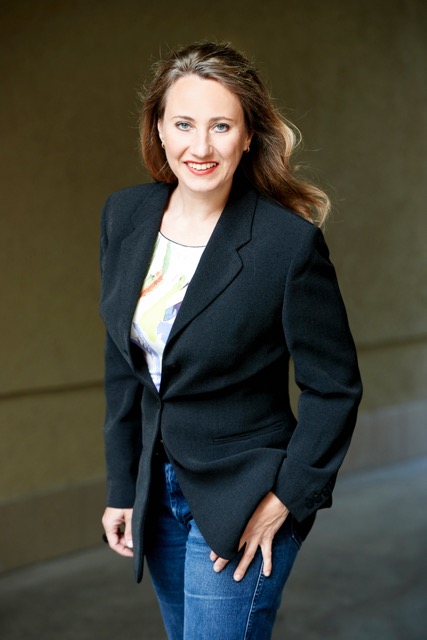 Mag. Doris Kaiserreiner
Management Consultant & Business Coach
certified by the TÜV Austria ISO/IEC 17024

certified academic Arts & Culture Manager
---
jUMP-START e.U. ist auf alternative Unternehmens- und Projektfinanzierung wie Förderungen und Crowdfunding, auf Innovationsmanagement, und den raschen Aufbau von Team-Strukturen von StartUps spezialisiert und begleitet Sie bei Ihrer Unternehmensgründung.
Wir unterstützen Sie bei der dafür nötigen Businessplanerstellung, führen erforderliche Analysen und Recherchen durch, halten Workshops ab. jUMP-START e.U. bietet darüber hinaus allgemeine Unternehmensberatung an.
In Kooperation mit weiteren ExpertInnen bieten wir Dienstleistungen zu M&A, Unternehmensverkäufen und Schutzrechten an.
DIESE SEITE IST IM AUFBAU BEGRIFFEN – BITTE HABEN SIE NOCH EIN WENIG GEDULD!
Seminarreihe Gründung und Crowdfunding
mehr lesen
CROWDFUNDING-WORKSHOP FOR BUSINESSES Addressee: Project Managers, Entrepreneurs, Starting Companies-teams of Small to Medium Businesses (SMB's) Learning: What is Crowdfunding, CrowdINVESTING, CrowdLENDING, Which projects are suitable, How to make my project... mehr lesen
         KAISERREINER, Doris: "Die Finanzierung der Creative Industries in OÖ. Ein- und Ausblicke: Bootstrapping, Crowdfunding, Förderungen & Co. Einblicke in die Finanzierungspraxis Oberösterreichischer Kreativunternehmen", 6. August 2014.   ... mehr lesen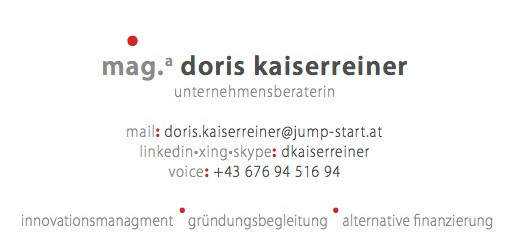 Ich freue mich über ihre Anfrage: